Edmonton, Alberta, Canada, Jan. 9, 2020 – PACYLEX PHARMACEUTICALS, INC. a pre-IND-stage pharmaceutical company targeting hematologic cancers with a new first-in-class therapeutic, announced today that its chief executive officer, Michael Weickert, will present at the Biotech Showcase 2020 conference being held January 13-15, 2020 at the Hilton San Francisco Union Square in San Francisco, California.
Pacylex is developing an oral small molecule drug, PCLX-001, to treat cancers deficient in N-myristoyltransferase 2 (NMT2), a myristoylation enzyme associated with higher mortality in leukemia and lymphoma. PCLX-001 selectively kills cancer cells and completely regresses (eliminates) tumors in animal models of Acute Myeloid Leukemia (AML), Diffuse Large B-cell Lymphoma (DLBCL), and Burkitt's Lymphoma (BL). It also inhibits the growth of Lung and Breast cancer tumors in animal models. In tests using cultured cancer cells in vitro, PCLX-001 is at least 10-times as potent as Ibrutinib (Imbruvica) and Dasatinib (Sprycel), two multi-billion-dollar drugs for hematologic malignancies. Pacylex is completing GLP toxicology in January and will file its IND and commence clinical studies in 2020.
Details of the presentation are as follows: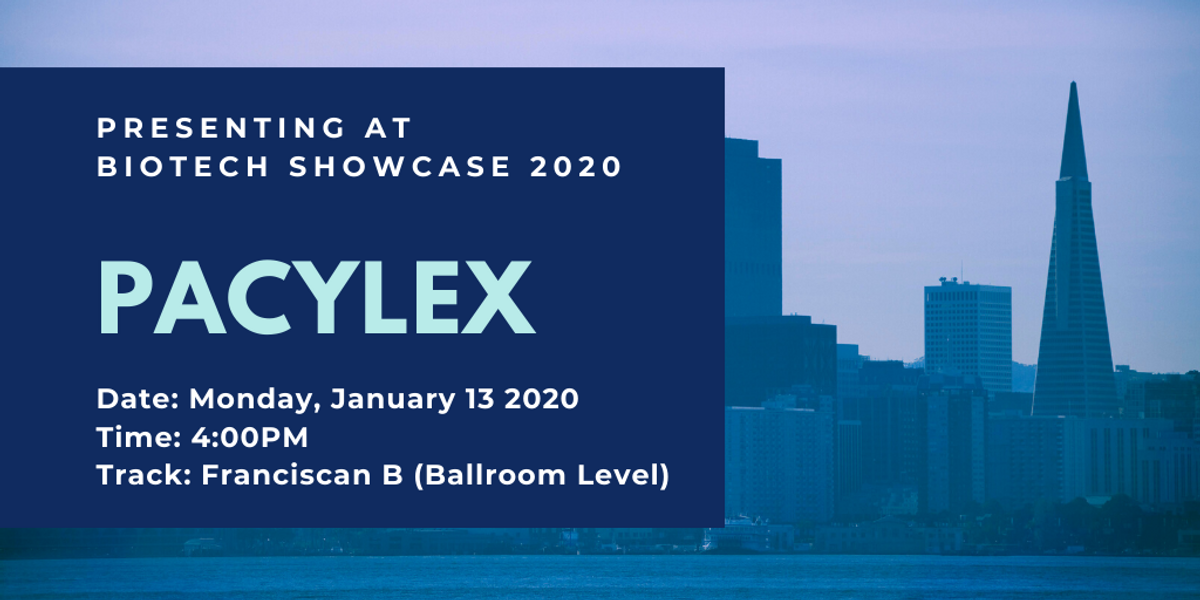 About PACLYEX
Pacylex is a Canadian oncology company headquartered in Edmonton, Alberta. It combines new insights from Dr. Luc Berthiaume of the University of Alberta, connecting myristoylation to cancer, with a family of myristoylation inhibitors developed for African sleeping sickness by the University of Dundee in a program funded by Wellcome Trust. PCLX-001 is the lead drug in a new class of NMT inhibitors, exploiting this new clinical target for cancer treatment. Animal dosing for IND-enabling toxicology in 2 species will finish in January 2020. Pre-IND meeting feedback from the FDA in 2019 defines a clear path to IND filing and clinical start later this year. The Phase 1 protocol is complete and principal investigators are in place at three clinical sites in Canada. Pacylex plans to close a Seed Note round of $5M USD early in 2020 and is looking to raise a $25M Series A in late 2020 to fund clinical development through Phase 2.
Follow Pacylex on Twitter and LinkedIn