Privately-held Pacylex may have a gem in its pipeline. Pacylex is developing PCLX-001, a first-in-kind, small molecule with a novel mechanism of action believed to play a significant role in the development of certain types of blood cancers and solid tumors. Data from four different preclinical models suggest that PCLX-001 has robust efficacy in leukemia and lymphoma. First-in-human clinical trials are progressing even during the challenging pandemic and will begin in 2020.
An Exciting New Mechanism
There are several reasons PCLX-001 might be a gem. Firstly, the drug targets a biological process, myristoylation, disrupting protein modifications critical to prosurvival pathways in several types of blood cancers. Myristoylation is the process where a lipid, myristoyl, is added to intracellular proteins as a sort of signal for regulation by promoting protein-membrane interactions. The mechanism plays a significant role in immune response; however, scientists have discovered that in patients with certain types of leukemia and lymphoma, expression of one of the two key enzymes involved in the myristoylation process is low. Low expression of N-myristoyl transferase 2 (NMT2) is associated with worse outcomes in patients with Acute Myelogenous Leukemia (AML) and Diffuse Large B-Cell Lymphoma (DLBCL) (see below).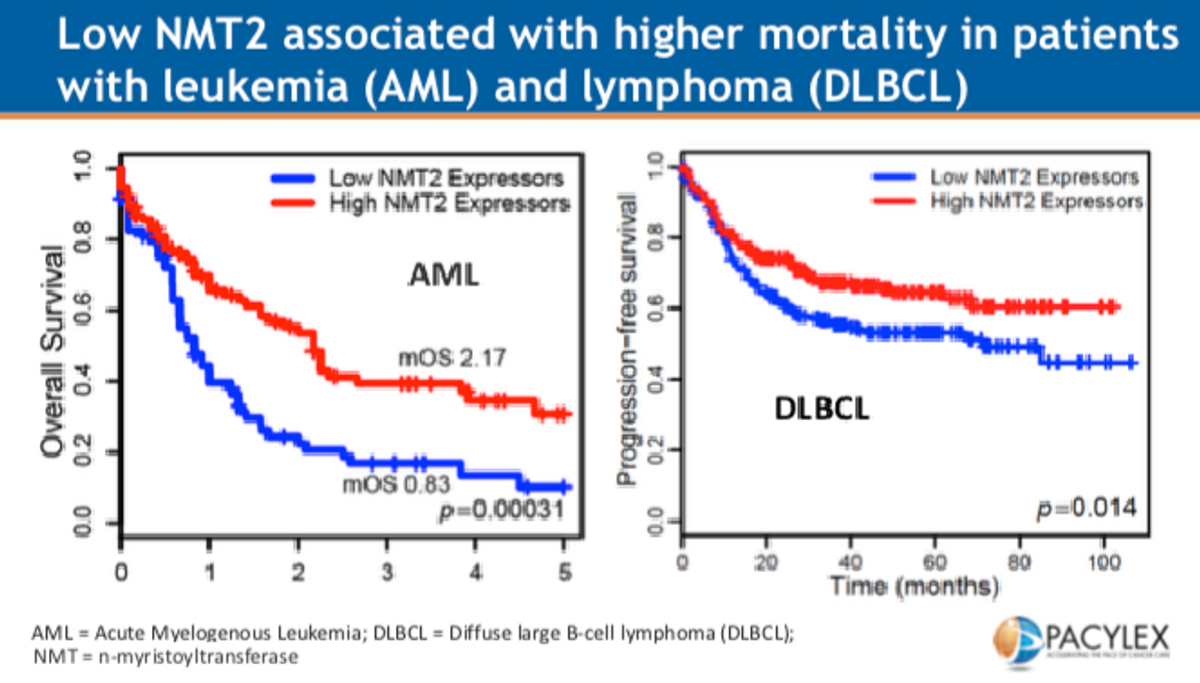 PCLX-001 works by taking advantage of cancer cells deficient in NMT2. These cells are more sensitive to PCLX-001, an NMT inhibitor, which inhibits myristoylation of Lyn, a key part of the B-cell antigen receptor (BCR) complex, thereby disrupting several Src family kinases (SFKs) and selectively inducing apoptosis (programmed cell death) in leukemia and lymphoma cells. Pacylex data (on file) shows that PCLX-001 may be up to 10x more potent at killing lymphoma cells than two blockbuster cancer drugs, Imbruvia® (ibrutinib) and Sprycel® (dasatinib). That's very important because high potency means Pacylex's drug may have a higher therapeutic benefit treating leukemia and lymphoma.
Preclinical data suggest that PCLX-001 may be up to 50x more selective in killing cancer cells deficient in NMT2 than normal healthy cells. The EC50 (a measure of cell-killing potency) of PCLX-001 is ~200 nM in AML vs. 10,000 nM in healthy cells. This means that doses that can kill cancer cells should be tolerable for patients.

Pacylex has screened PCLX-001 in over 300 different cell lines of both hematological malignancies and solid tumors, with the best results to date observed in blood cancers like the previously noted AML and DLBCL. The data above shows that PCLX-001 eliminates tumors in animal models of AML, DLBLC, and BL (Burkitt's Lymphoma), including drug-resistant lymphoma tumors from a relapsed DLBCL patient. This presents the opportunity for PCLX-001 use in both the front-line and relapsed / refractory settings. Additionally, because PCLX-001 represents new biology and a novel mechanism of action, the potential exists for combination therapy with existing targeted cancer agents for leukemia and lymphoma.
However, to improve the efficacy of PCLX-001 in humans, the company is investigating a precision medicine approach whereby NMT2 suppression may serve as a biomarker to drive patient selection, if correlated with better clinical outcomes. Company data shows 19 types of cancer cell lines have suppressed NMT2 expression at a prevalence ranging between 5% and 82% of individual cell lines. Samples from patient tumors show a higher prevalence of NMT2 suppression. In fact, some of the company's intellectual property (IP) around PCLX-001 and other NMT inhibitors is around diagnostics and methods of treatment. Pacylex plans to commercialize a diagnostic for NMT2 expression along with the development of PCLX-001 if supported by clinical experience.
Finally, the drug is taken orally once per day with high bioavailability. This provides a significant dosing and convenience advantage for patients. After all, for a cancer drug to work, people have to take it, and trips to the infusion center are taxing on sick patients.
Progressing Towards The Clinic
Pacylex successfully completed a pre-Investigational New Drug (IND) meeting with the U.S. FDA in August 2019. This meeting helped the company map-out a path towards first-in-human clinical studies in 2020. The company has completed acute and 14-day toxicology studies in two species (rats and dogs) looking to identify the minimally effective and maximum tolerated dose (MTD) before giving the drug to humans. This work was completed at Citoxlab, a Charles River Company. The company has also completed standard absorption, distribution, metabolism, and excretion (ADME) preclinical studies, and other studies required for an IND and authorization to begin human trials.
In the meantime, management has been active in presenting the encouraging preclinical efficacy data at major medical meetings earlier this year. In April 2019, the company presented two posters at the American Association of Cancer Research (AACR) annual meeting, "Examination of NMT1 and NMT2 as independent prognostic markers and novel drug targets in adult acute myeloid leukemia" and "Targeting N-myristoylation in B cell lymphomas as a therapeutic strategy" in a session on Experimental and Molecular Therapeutics. In December 2019 at the American Society of Hematology (ASH) annual meeting, the company presented another poster entitled, "Initial Characterization and Toxicology of an NMT Inhibitor in Development for Hematologic Malignancies."
Phase I human clinical studies are expected to begin in 2020. The company is currently wrapping up GLP toxicology studies and plans to file the IND application by summer. Three clinical research sites in Canada, Cross Cancer Institute in Edmonton, BC Cancer Agency in Vancouver, and the UHN Princess Margret Cancer Centre in Toronto will be the sites for the initial human studies in DLBCL and solid tumors. The MD Anderson Cancer Center in Texas will be the site of the first U.S. Phase I in 2020. This will be a parallel study in AML, similar to what the company is conducting in Canada in DLBCL. Below is the expected development timeline for PCLX-001, which qualifies for both Orphan Drug designation and Fast Track status in the U.S. and E.U. Pacylex believes it could see U.S. NDA approval of PCLX-001 in as little as three years after entering the clinic.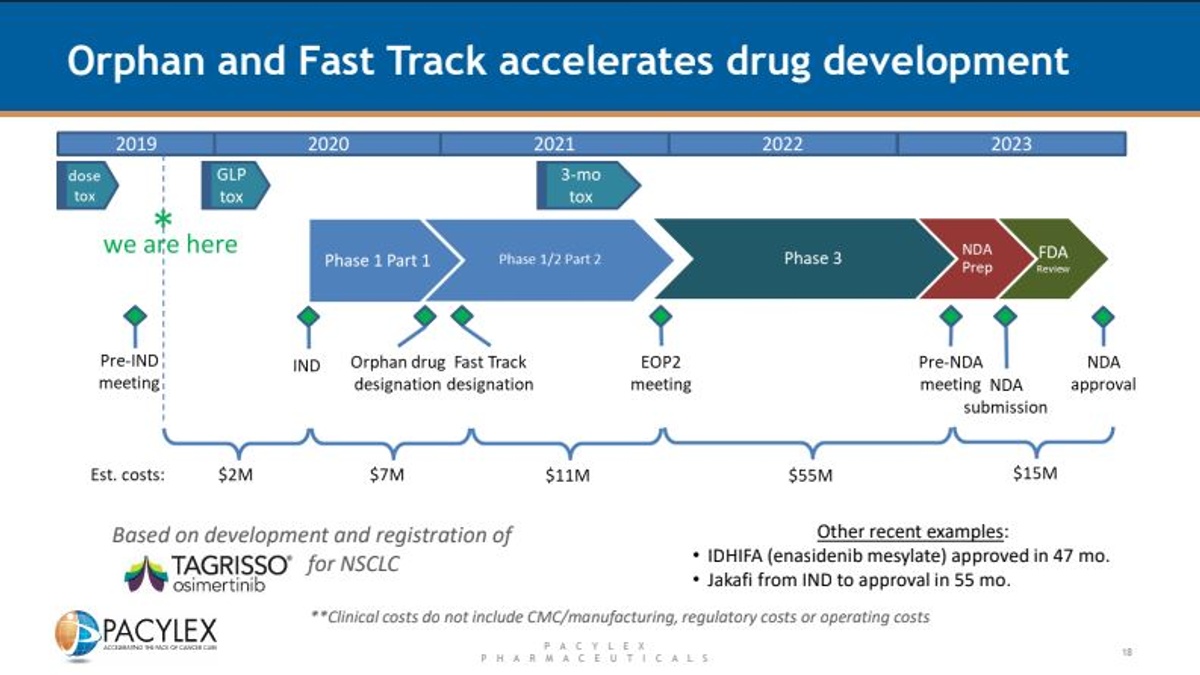 An Attractive Target
We note that Pacylex is located in Edmonton, Canada, at the brand new accelerator program recently created by Merck and the University of Alberta. Pacylex was selected as one of the first four companies to participate in the program, which consists of mentorship, space and funding. This is a fantastic opportunity for the company because large pharmaceutical companies are keenly interested in new cancer drugs and novel mechanisms of action like PCLX-001. The potential for a synergistic combination of other drugs with PCLX-001 is exciting. Being at the Merck accelerator facility presents an opportunity for management to engage with peers in the field who may turn into partners in the future. Pacylex has also been accepted into the Creative Destruction Lab (CDL) 2019 -2020 Health West cohort. CDL is an objectives-based program for massively scalable, seed-stage science and technology based companies and includes mentorship and engagement with experts and investors.
Recently, the CEO was interviewed at the Bio Investor conference in October 2019 talking about the potential initiation of human studies. The management team looks to be a well-crafted team of individuals with experience in both drug development and clinical trials. AML and DLBCL are diseases with a significant unmet medical need, and the exciting preclinical data and novel mechanism of action for PCLX-001 positions Pacylex well for 2020.