The University of Dundee drug discovery unit originally developed the drug as part of a program to treat African sleeping sickness. The original drug, which inhibited a function in the parasite that causes sleeping sickness, was found unsuitable to treat the latter stages of the disease that affect the brain. During their research, the Dundee team discovered that the compound could kill human cancer cells, but they could not identify which cancers were appropriate for clinical trials. The new compound is an analog of the original. The entire family of related compounds that inhibit an enzyme known as NMT was then licensed by Pacylex Pharmaceuticals, a Canadian company that is developing PCLX-001 as a once-a-day oral pill, initially to treat leukemia and lymphoma. Read more about the collaborative science in The Times.
Privately-held Pacylex Pharmaceuticals is developing PCLX-001, a first-in-class, small molecule with a novel mechanism of action targeting a pathway believed to play a significant role in developing certain types of blood cancers and solid tumors. Data from preclinical models suggest that PCLX-001 has potential efficacy in leukemia and lymphoma, as well as in solid tumors such as breast cancer. A Phase 1 dose escalation safety and tolerability clinical trial is currently underway in patients with Non-Hodgkin's Lymphoma (NHL) and solid tumors, with an additional study in patients with Acute Myeloid Leukemia (AML) planned for 2023. PCLX-001 has been granted FDA Fast Track designation and Orphan Drug designation in the U.S. for AML.

There are several reasons why PCLX-001 is intriguing. Firstly, the drug targets a biological process, myristoylation, disrupting protein modifications critical to prosurvival pathways in several types of blood cancers. Myristoylation is the process whereby the fatty acid, myristate, is added to the N-terminus of certain intracellular proteins as a signal for membrane association. The myristoylation process is critical for key proteins in certain regulatory complexes involved in the development of certain cancers, like the B cell receptor complex, which is involved in modifying proliferation and pro-survival signaling in lymphoma. NMT-signaling has been implicated in maintaining these hematologic malignancies, as well as solid tumors such as breast and colon cancer.
For most modified proteins, the myristoylation process is controlled by either of two enzymes, N-myristoyl transferase 1 (NMT1) and N-myristoyl transferase 2 (NMT2). Recently scientists discovered that in patients with certain types of cancers, expression of NMT2 is low, and NMT-dependent signaling is driven primarily by activity of the second enzyme, NMT1. Low expression of N-myristoyl transferase 2 (NMT2) is associated with worse outcomes in patients with Acute Myelogenous Leukemia (AML) and Diffuse Large B-Cell Lymphoma (DLBCL) (see below).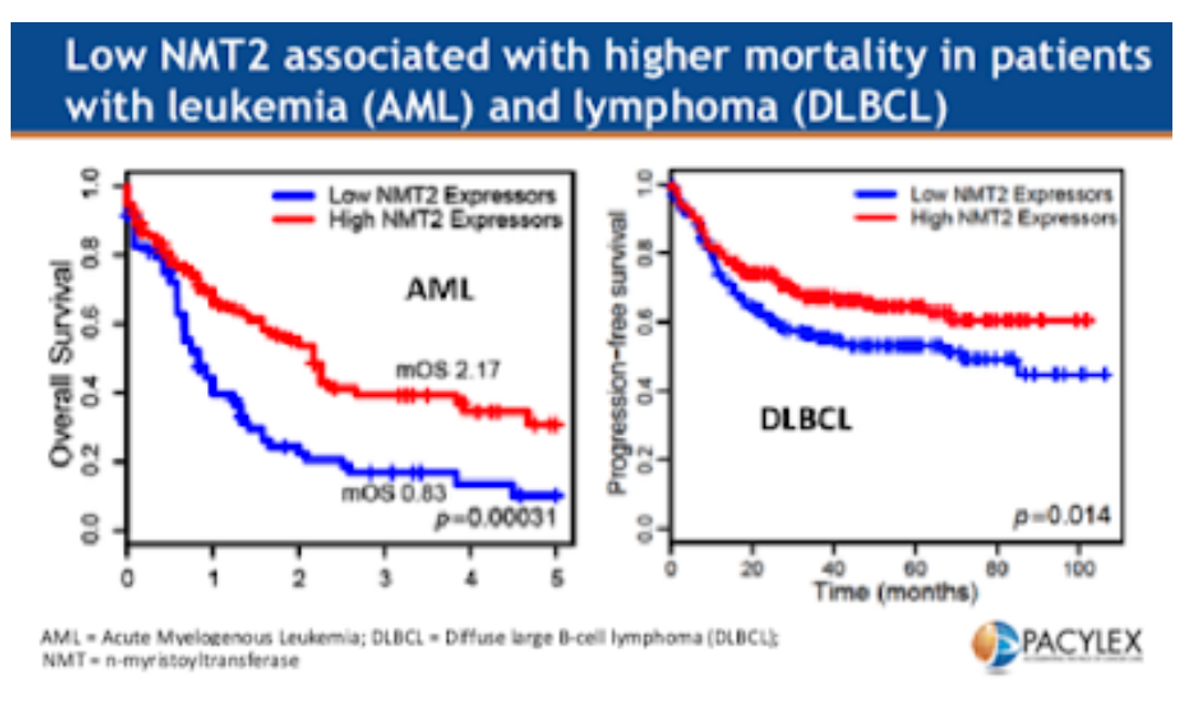 PCLX-001 appears more potent in cancer cells deficient in NMT2. These cells are more sensitive to PCLX-001, an NMT inhibitor, in a form of "selective lethality". The drug inhibits myristoylation of Lyn and HGal, key parts of the B-cell antigen receptor (BCR) complex, disrupting several downstream Src family kinases (SFKs) and selectively inducing apoptosis (programmed cell death) in cancer cells.
Pacylex has screened PCLX-001 in over 300 different cell lines of both hematological malignancies and solid tumors, with the best results to date observed in blood cancers like the previously noted AML and DLBCL. Data shows that PCLX-001 eliminates tumors in animal models of AML, DLBCL, and BL (Burkitt's Lymphoma), including drug-resistant lymphoma tumors from a relapsed DLBCL patient. This presents the opportunity for PCLX-001 use in both the front-line and relapsed / refractory settings. Additionally, because PCLX-001 represents new biology and a novel mechanism of action, the potential exists for combination therapy with existing targeted cancer agents for leukemia and lymphoma.
The company published data in Nature Communications demonstrating PCLX-001 selectively kills blood cancer cells in vitro through inhibition of BCR survival signaling and may be up to 10x more potent at killing lymphoma cells than two blockbuster cancer drugs, Imbruvica® (ibrutinib) and Sprycel® (dasatinib). The total size of the non-Hodgkin's lymphoma (NHL) market is forecasted to be in excess of $27 billion by 2028; the AML market is forecasted to be in excess of $10 billion in 2028 (source: EvaluatePharma). We are unaware of another NMT-inhibiting agent in human clinical studies besides PCLX-001. In blood cancers alone, PCLX-001 is targeting a nearly $40 billion market, and this asset is first-in-class.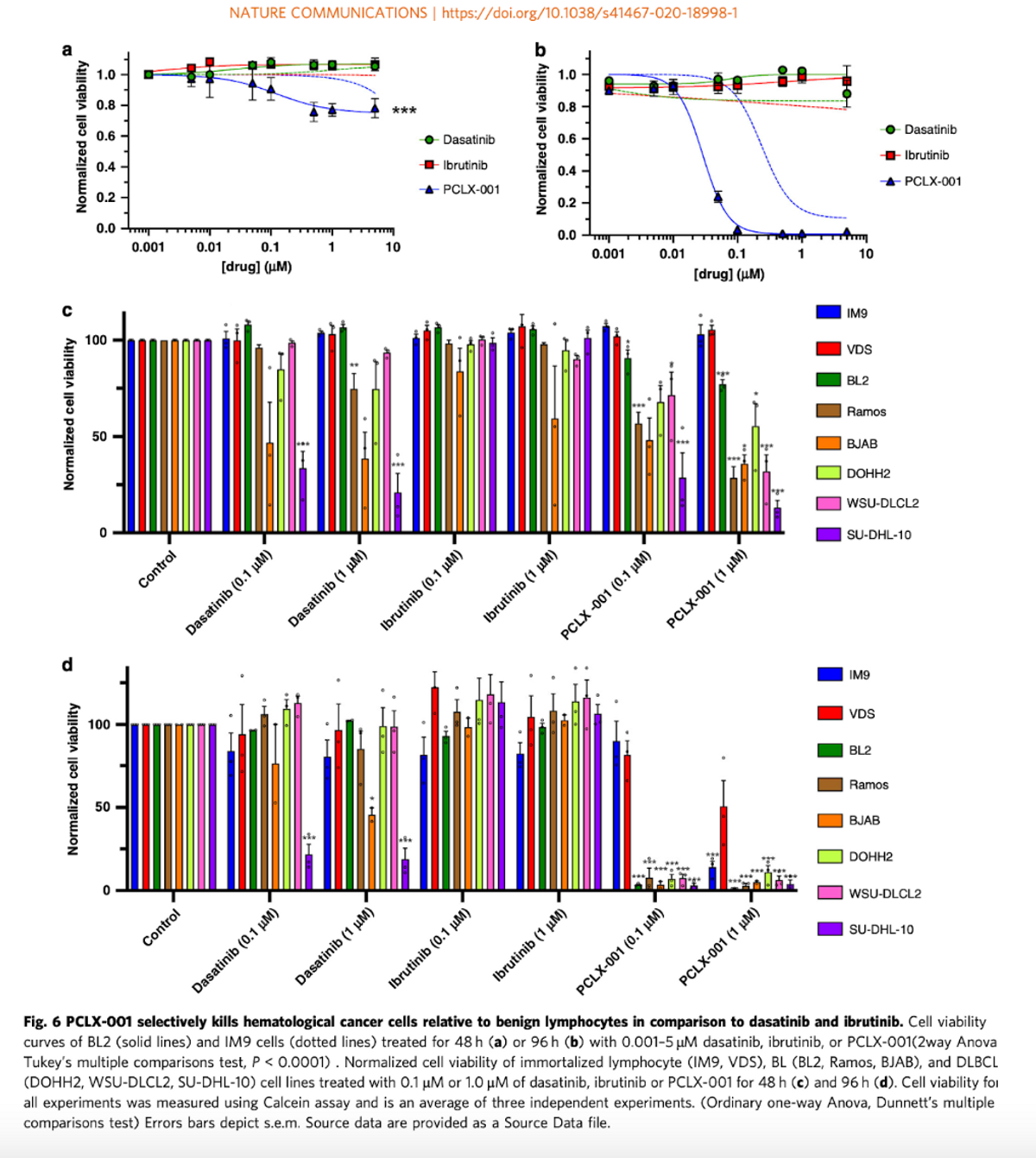 Preclinical data also suggest that PCLX-001 may be up to 50x more selective in killing cancer cells deficient in NMT2 than normal healthy cells. The EC50 (a measure of cell-killing potency) of PCLX-001 is ~200 nM in AML vs. 10,000 nM in healthy cells. That's very important because high potency means Pacylex's drug may have a higher therapeutic benefit in treating leukemia and lymphoma. Quite simply - the dose that kills cancer cells should be tolerable for patients because it avoids killing healthy cells. Preclinical data shows dose-response in models of DLBCL with efficacy superior to doxorubicin chemotherapy.

However, to further improve the efficacy of PCLX-001 in humans, the company is investigating a precision medicine approach whereby NMT2 suppression may serve as a biomarker to drive patient selection, if correlated with better clinical outcomes. Company data shows 19 types of cancer cell lines have suppressed NMT2 expression at a prevalence ranging between 5% and 82% of individual cell lines. NMT2 suppression appears at a higher percentage in patients of several cancer types that have been surveyed. In 2021, the company published in Breast Cancer Research and Treatment showing that most breast cancer patient tumors were NMT2 deficient. Pacylex has intellectual property (IP) around diagnostics of NMT state as well as methods of treatment with NMT inhibitors. If supported by clinical results, Pacylex plans to commercialize a diagnostic for NMT2 expression.
Finally, the drug is taken orally, once per day, with high bioavailability. This provides a significant dosing and convenience advantage for patients. After all, for a cancer drug to work, people have to take it, and trips to the infusion center are taxing on sick patients.

Pacylex initiated a Phase 1 human clinical trial of PCLX-001 in NHL and solid tumors in September 2021 (NCT04836195). This open label, dose escalation study is examining the safety and tolerability of PCLX-001 and determining the dose to be used in initial efficacy studies. Four clinical sites are involved in the ongoing clinical study in NHL and solid tumor patients in Canada; the University of Alberta Cross Cancer Institute, Princess Margaret Hospital in Toronto, Centre Hospitalier de l'Université de Montréal (CHUM)and the BC Cancer Agency in Vancouver. The study has dosed 19 patients to date and will include approximately 4 more in the initial phase.
Initial results were presented at the American Society of Hematology (ASH) meeting in early December 2022. Seventeen Non-Hodgkin Lymphoma and solid tumor patients were accrued through 5 dose levels of oral, once-per-day, PCLX-001. No dose limiting toxicities were identified. Pharmacokinetic analysis showed rapid oral absorption, an elimination half-life of ~ 10 hours, no plasma accumulation, and drug exposure increasing linearly with dose. The PK is consistent with once-per-day oral administration. Pacylex published its findings from a case study of the first patient dosed with an NMT inhibitor, an 86 year old woman with relapsed DLBCL, in Current Oncology in March 2022. The authors conclude that further dose-escalation with PCLX-001 was warranted given the favorable safety and pharmacokinetic profile observed to date.
The next milestone for the company will be to begin a second Phase 1 study, this time in patients with relapsed or refractory AML. The U.S. FDA cleared the Investigational New Drug (IND) application in November 2022. This study is similar to what the company is conducting in Canada in DLBCL and solid tumors. PCLX-001 has both Orphan Drug Designation and Fast Track Designation for r/r AML in the U.S.
At ASH in December 2022, investigators presented the rationale for evaluating PCLX-001 in AML based on preclinical data. Data analysis from the TCGA transcriptome database showed that high NMT1 and low NMT2 were associated with reduced overall and event-free survival in adult AML, and high NMT1 - but not NMT2 - expression is associated with proliferative gene sets in AML cell lines. The therapeutic potential was further validated by data from a variety of AML xenograft models, where PCLX-001 monotherapy had a dose-dependent tumoricidal effect.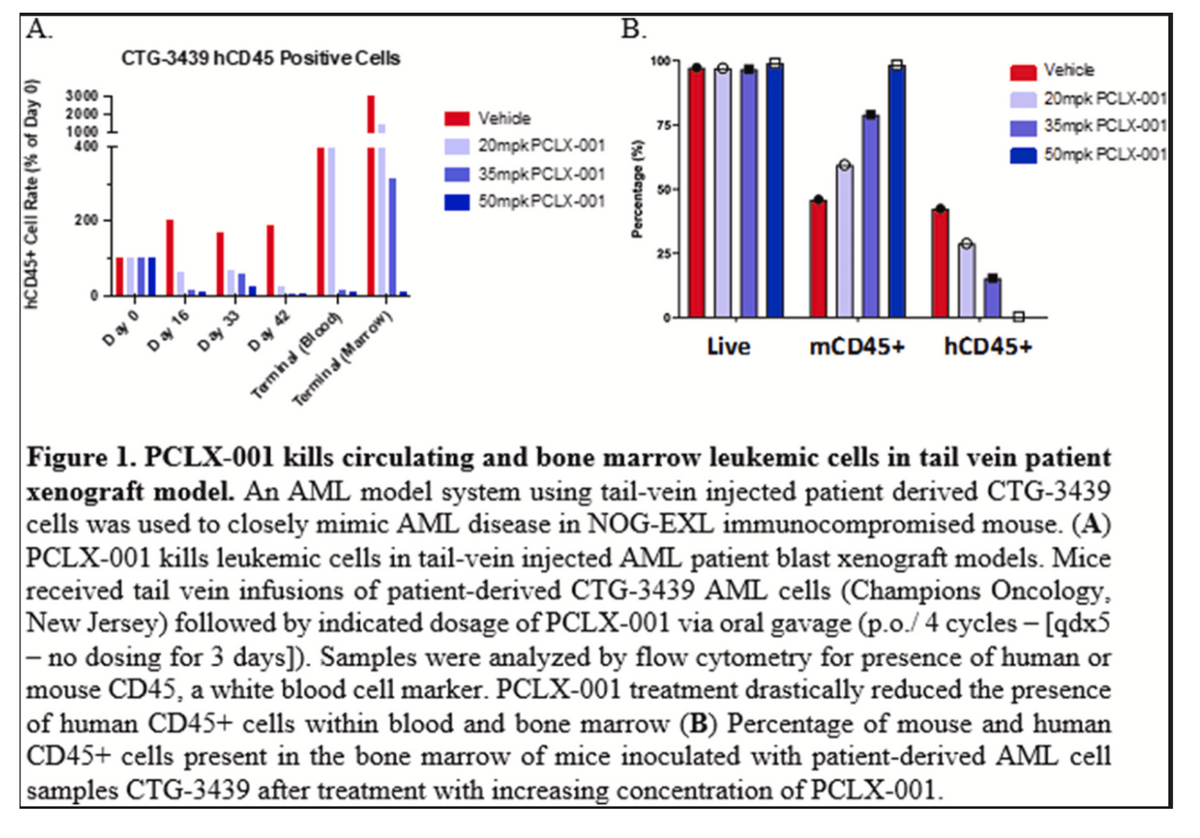 Pacylex has been funding development of PCLX-001 through a combination of equity capital and grants from the Cure Cancer Foundations World's Longest Games, Alberta Cancer Foundation, and the U.S. Department of Defense (DOD). In March 2020, the company raised over $3.9 million through a convertible note financing led by a group of Canadian angel investors. This amount builds on the previous $2 million in convertible note financings the company completed in 2018 and 2019. In June 2021, the company completed its Series A financing of just over $7 million, designed to support the ongoing Phase 1 study in DLBCL and solid tumors. In October 2022, the U.S. DOD awarded The University of Texas MD Anderson Cancer Center a $1.4 million grant to support the development of PCLX-001 to treat patients with AML. In 2023, the company is seeking additional funding to advance the PCLX-001 pipeline.

Additional data from an expansion of the Phase 1 study in DLBCL and solid tumors are expected in 2023, along with the first look at the initial data from the dose-escalation safety study in patients with AML. Pacylex should be in position to start enrolling patients in the expansion phase early in 2023, and depending on the data and regulatory feedback, move into registrational studies late in 2023 or early in 2024.
---
PCLX-001
PCLX-001 (aka DDD86481) is a first-in-class, small molecule NMT inhibitor originally developed by the University of Dundee Drug Discovery Unit as part of a program to treat African sleeping sickness, funded by Welcome Trust. Pacylex is developing PCLX-001 in the form of a once-a-day pill initially to treat leukemia and lymphoma. PCLX-001 has also been shown to inhibit the growth of lung and breast cancer tumors in animal models. In leukemia, lymphoma and breast cancer patients, the levels of NMT2 are correlated with survival, suggesting an important biological role in these cancers.
About Pacylex

Pacylex is a pharmaceutical company headquartered in Edmonton, Alberta, Canada, targeting hematologic and solid cancers with a new first-in-class therapeutic,
PCLX-001
. Pacylex's technology combines new insights from Dr. Luc Berthiaume of the University of Alberta connecting myristoylation to cancer with a family of high quality myristoylation inhibitors Pacylex licensed from the University of Dundee. PCLX-001 is the lead drug in a new class of NMT inhibitors, enabling Pacylex to exploit NMTs as new clinical targets for cancer treatment. Pacylex initiated clinical studies in Canada in the fall of 2021 in non-Hodgkin lymphoma and solid tumors. Pacylex is also receiving support from an Alberta Innovates AICE grant in 2020, and the research leading to this breakthrough was supported in part by the Alberta Cancer Foundation and the Cure Cancer Foundation. The US Department of Defense is supporting the initial clinical investigation of PCLX-001 in AML patients.
For more information:
Pacylex Pharmaceuticals Contact: Michael J. Weickert
CEO, Pacylex Pharmaceuticals, Inc.
P: 650-218-1840
#cancer, #lymphoma, #leukemia, #albertacancer, #Pacylex, #PCLX001, #UAlberta; #UAlberta_FoMD; #Worldslongestgame, #ASH22, #MDACC, #AML